It's really not cool — not at all — to cry in front of 8th graders.  So I didn't.  But today I came mighty close.  Today was the last reading of Cynthia Lord's Touch Blue, a novel I chose carefully as our debut read aloud for the year.  As we gathered on the carpet, Reader's Notebooks ready for response, I proceeded to read the last two chapters.  It was magically quiet as we stepped inside Tess and Aaron's world for one last summer day.  I read the last sentence in its brilliant three word simplicity, then closed the book reverently.  Silence — for a good 2-3 seconds (which can seem really long) — followed by spontaneous, heartfelt applause.  Eighth graders generously clapping at the end of a read aloud.  Just because.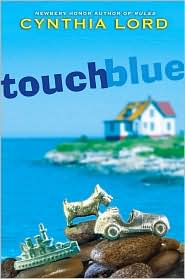 It's a privilege to share story with kids, even "big kids." And it's a pleasure when I observe teen readers already picking up Ms. Lord's Rules because they know and trust this author will deliver a good read.
Silvya already asked what I was going to read next.  I don't know.  For now, I'll linger in the afterglow of this book for a few days, knowing the commitment of time for read aloud and response has been rewarded.
Don't let anyone tell you 8th graders are too old to succumb to story!